---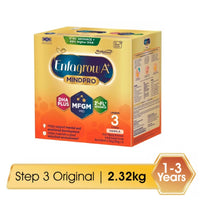 Sale
★MANUFACTURED IN THAILAND★ 
Imported/Distributed by Malaysia
Expiry Date: JUN 2024
No matter your little one's age, we have the right formula to suit his or her new needs. Our wide range of nutritional products have been scientifically formulated for your child's every stage of growth and development. Enfagrow A+ Mindpro Step 3 with MFGM Pro and 60% higher DHA is a scientifically formulated milk powder for children aged 1-3 years old.
• Nourishing your child with the right nutrition and stimulation is important for intellectual and emotional development because today builds tomorrow.
• Enfagrow A+ Mindpro with MFGM Pro and DHA PLUS, a new breakthrough in pediatric nutrition.
• Scientific studies shown that DHA and MFGM help support mental and emotional development.
• Enfagrow A+ contains
o MFGM Complex
o 120mg DHA#
o FOS**
o Yeast Beta-Glucan
o Choline
o Iodine
o Vitamin A, and Vitamin B12
o Zinc & Iron
o No added sugar*
* Sugar refers to sucrose based on Regulation 118 under Malaysia Food Regulation 1985 # Per 3 servings
** Fructo-oligosaccharides